Mayumi Hara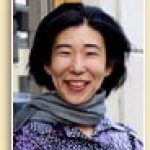 Credentials: Certified Advanced Rolfer, Rolf Movement Practitioner
Phone: (780) 984-5390
Workplace: Mayumi Hara Holistic Bodywork #103 (*second Floor) 9942-82 Ave NW Edmonton, Alberta T6E 1Y9
Mayumi Hara has been practicing Rolfing Structural Integration since being certified in 2001. She also became RMT (completed 2200 hour program) in June 2016. She is a good standing member of NHPC. She also has been practicing Cranial Sacral Therapy since 1999 when she competed Level 1-4 Cranial Sacral therapy training. Later she studied with Tom Shaver (D.O.) to deepen her understanding and skill by learning Biodynamic Cranial Sacral.
In 1995 Mayumi noticed her sister's posture was altered comlpetely when she visited her. She looked being at ease, graceful and harmonious in her body (which was very different from what she remembered from the memories growing up). Mayumi was very curious and asked what she had done to her body. Her sister was in the middle of her basic 10 series of Rolfing. She immediately booked the first session of basic 10 sessions of Rolfing for herself in Japan and by 5th session, she knew that she would like to be a Rolfer.
Rolfing is one of the most powerful tool I ever encountered in my life to serve other being. There are so many multi faceted aspect of "how we are" can be changed. I benefitted from Rolfing for eliminating pain uncomfortableness, misalignment and so on physically. However, the ease and harmonious 'feeling of bliss' being in my own body just walking the trail never was here with me till I started the journey of embodying Rolfing.
Her intention to offer these work is ultimately to help the inherent Helath/Essence within each individuals manifest through sessions. Born and raised in Japan. Received BA of Literature from Kyoto University of Foreign Studies. She loves gardening, the Ocean, nature, animals and good food.