Marie-José Leclerc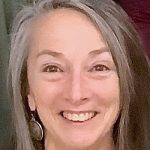 Credentials: Certified Advanced Rolfer, Rolf Movement Practitioner
Phone: (450) 538-0020
Workplace: Montreal, Quebec J0E 2K0
/ Rolfing, Ritual and Ceremonial Work, Dance-Meditation, Archetypes Workshops, Channeling /
I am deeply convinced that our bodies are the physical manifestation of who we are. They are shaped by our cultural and familial heritage, by our personal history, and more… Our bodies are the means by which we perceive the world and relate to it. Out essential truth and an innate sense of the Universe are imprinted in them.
The study and practice of different techniques of bodywork, various styles of dance, yoga, sports, martial and dramatic arts, has formed a continually renewed foundation which supports and nurtures my work as a Rolfing Practitioner in a direct and personal way.
I now work exclusively in the Sutton area, +/- 1h15 from the SdeChamplain bridge. For more information (address, availabilities, rates, etc.) please contact me.