Gian Gibson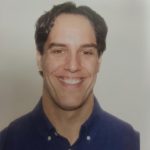 Credentials: Certified Advanced Rolfer, Rolf Movement Practitioner
Phone: (780) 297-4426
Workplace: Next Step Relief Cassel Centre - 2607 Ellwood Drive SW Edmonton, Alberta T6X 0P7
Other locations:
Gwynne, AB ( Wetaskiwin / Camrose)
Gian customizes his treatments accordingly to reduce pain, restore structural/functional balance and awareness. Gian helps reshape and hydrate fascia with precise hands-on manipulation and education for lasting change. With Rolfing he treats painful issues like scoliosis, chronic back pain, sciatica, carpal tunnel, nerve inflammation, rotator cuff pain, TMJD, and pain recovery associated with injury and surgery.
Gian graduated from the Somatics Institutes School of Massage in Edmonton, AB (2500 hour program and has been practicing massage therapy since 2006. He is also a Certified Rolfer, trained at the Rolf Institute School of Structural Integration in Boulder, Colorado and Barra De Sahy, Brazil. Post training includes Rolf Movement and Anti-aging Crania Sacral Therapy and Visceral Manipulation.
Gian's treatments have prompted outstanding responses from musicians, health care professionals, actors, elite dancers, yoga practitioners, massage therapists, athletes, as well as many corporate professionals and the elderly.