Aaron Bjorndal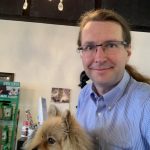 Credentials: Certified Rolfer
Phone: (780) 984-7390
Workplace: #101, 9942-82 Ave Edmonton, Alberta T6E 1Y9
Aaron Bjorndal was born in Vancouver, B.C., grew up in Kamloops, and moved to Edmonton in 1999. After a variety of different employment in various fields Aaron decided on Rolfing structural integration. He first got Rolfed at the age of fifteen to deal with a serious spinal issue (scoliosis) and was helped immensely. Health and wellness and Japanese were his background before heading to the Rolf Institute in Boulder, Colorado.
Aaron began his Rolfing training in 1998 and completed the training in 2000. He has been practicing out of the General Hospital downtown since 2001. His no nonsense and humourous approach to his work has kept his practice thriving and continuing to grow over the years.
Continuing his studies Aaron has added some complementary modalities to his Rolfing practice: PSYCH-K, Kirlian photagraphy, and Devic Clearing.
In the near future Aaron plans to enrich his knowledge by assisting in Rolfing classes and possibly becoming an instructor of Rolfing SI.