Monica Aguirre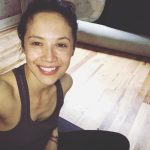 Niveau: Certification de base
Téléphone: (416) 728-2166
Adresse: Hill and Sky Rolfing Vancouver, North Vancouver, British Columbia
​I discovered Rolfing ten years ago via a friend. I was dealing with a hamstring injury that for months put me out of my two passions, yoga and running. The Rolfing sessions blew my mind. They were absolutely brilliant. They helped me to not only to alleviate the discomfort, but also to freedom my breath, to understand how my body was working with gravity, how to use it more efficiently and how body patterns and habits could be re-arrange or re-think creating solid lasting structural changes.
Being a yoga teacher, a dancer and a movement lover, this bodywork modality simply fascinated me, so I decided that I needed to learn it and share it to the community.
I want to work with you, so we, together, could create more space, vitality, and ease and conform in your body. As the talented Ida Rolf said, "Movement is Life".
Besides my Rolfing practice, you could find me spreading the love for Ashtanga yoga in different Yoga studios in town and teaching more Ashtanga Yoga and Les Mills programs.