Coko Mayuko Nakashima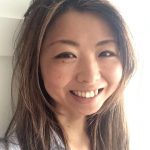 Credentials: Certified Rolfer
Phone: (604) 315-6140
Address: Coko Bodybalance 2620 W Broadway Vancouver, British Columbia V6K 2G3
After 15 years of wellness practice, study and teaching in various parts of the world, including Japan, Australia, the United States, and South Africa, certified Rolfer™ Coko Mayuko now bases her work near Vancouver's beautiful Kitsilano Beach.  As a graduate of The Rolfing™ Institute in Boulder, Colorado, a Craniosacral Therapy practitioner, yoga teacher, reflexologist and certified Kita Sound Healing therapist, Coko brings a wealth of integrated healing techniques to her sessions.
 Her clients range from both humans to animals. She enjoys sharing her practice with all living things and is passionate about rejuvenating ease and breath of life.
She is a practitioner, traveler, hand pan player, surfer, vegan and teaches a variety of workshops and classes in sound healing, Resilient body alignment and centering practice (a.k.a. Rolfing™movement classes) and yoga.
Special Skills & Qualifications
Certified Rolfer®(The Rolfing Institute USA)

Biodynamic Craniosacral Therapy (The Rolfing Institute USA)

Four Hands Structural Integration Workshop (Emmet Hattchins at Guild For SI)

Yoga Teacher (200 hours Yoga Teacher Alliance)

Somatic Experiencing®

The Art of Yield

Sound Healing Therapist (The Society for Sound Healing)

Diploma of Social Welfare (Japan)

Massage Therapist (Diploma of Japanese Health)・Mental Care Counselor

Aromatherapy certification A grade (Japan)
Work History
Rolfer®

Sound Healing Therapist at the Body and Mind Department at Shinoda no Mori Medical Hospital/a reputable retirement institute

Massage Therapist

Reflexologist
​
​