Event Navigation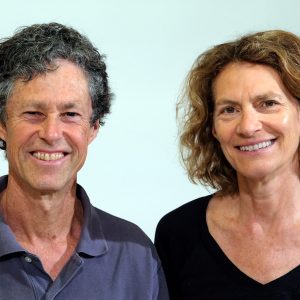 May 15, 2018 @ 9:00 am

-

May 20, 2018 @ 5:30 pm
5 Day Rolf Movement® Workshop
Rolf's Ten Series Considered as Perceptual Skills and Normalized Coordination
With Kevin Frank and Caryn McHose
(Receive CE credit for Rolf Movement Certification)
TORONTO, Canada
May 15 – 20, 2018     (May 18 is day off)
9:00 am to 5:30 pm
As a part of the field of structural integration, Rolf Movement improves response to physical and psychological challenge. The work addresses coordination. Coordination means the body's patterns of movement that happen automatically—patterns we don't have to think about. Coordination is not supposed to change casually—our movement patterns must be reliable. Rolf Movement offers skills and knowledge to selectively unlock underlying patterns of efforted coordination.
Plasticity in patterning occurs most easily via conscious attention to gravity orientation. In general, perception changes the body's preparation to move. The body is hungry for improved information. Better information helps the body let go of patterns based on effort.
This course is an opportunity to gain familiarity with how to work with pre-movement, how to embody perceptual processes and ways to see, feel, and practice normalized coordination, including stability. Defining structural integration as normalized coordination, grounds the purpose of our work visually and kinesthetically; this, in turn, helps clients better grasp the purpose of each session. Self-care tools echo the theme of the session and reinforce integration.
Our role is that of a facilitator for client discovery. Rolf stated that our work is, fundamentally, education. Rolf Movement clarifies how and why structural integration is education—it's based on an information model. Bodies show interest in better information.
Each day of the course is a combination of theory, practice labs, mini sessions, group movement and review. Movement learning also necessarily involves a certain amount of individual exploration and improvisation, to allow for happy accidents of discovery and for regulation.
Rolf Movement theory is informed by the Tonic Function Model developed by Hubert Godard. Articles on this topic can be found at www.resourcesinmovement.com under article archive.
Norman Doidge's books—The Brain that Changes Itself; and The Brain's Way of Healing, offer illustrations of how movement understanding has been revolutionized through contemporary neuroscience.
Kevin Frank is an Advanced Rolfer™ and Rolf Movement Instructor for the Rolf Institute. He has authored many articles pertaining to Rolf Movement and the Tonic Function view of movement in general. He is the co-author (with Caryn McHose) of the book, How Life Moves: Explorations in Meaning and Body Awareness.
Caryn McHose is a Rolfer™ and Rolf Movement practitioner. She has taught perception based movement for over forty years. She created the experiential anatomy curriculum at Middlebury College in the 1970's and it is the basis for the book she collaborated on with Andrea Olsen: Bodystories, A Guide to Experiential Anatomy. Caryn is also an SE® Practitioner and Biodynamic Cranial Practitioner.
To Contact Kevin Frank: e-mail to sparfilblock@gmail.com or call 603 . 968 . 9585